Agenda
8 April 2019
16:30 - 19:00
Domplein 29, Utrecht
Keynote Lecture by prof. dr. Simon Koschut
As part of the workshop The Affective Glue of European Integration, prof. dr. Simon Koschut will give a keynote on the role of emotions in International Relations: Passions from the Past: Emotions, History and International Relations.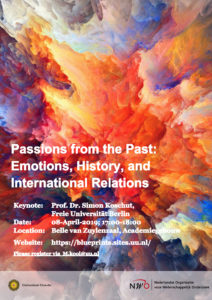 Although it is a tremendous challenge to use emotions as a category of analysis in historical research, prof. dr. Simon Koschut has been at the forefront in conceptualising and examining the role of emotions in transnational emotion security communities and, methodologically, developing an emotion discourse approach.
Prof. Dr. Simon Koschut is a Visiting Professor in International Relations and European Integration at the Otto Suhr Institute at the Freie Universität Berlin, Germany. He was awarded a Heisenberg Research Fellowship for research on "Emotional Communities in World Politics.
The lecture will take place in the Belle van Zuylen room at the Academy Building (Domplein 29, Utrecht). To register, please send an e-mail to Martijn Kool (m.kool@uu.nl). The lecture will start at 17:00 hours, but the doors are open from 16:30 hours, and we gladly welcome you with coffee and tea. Afterwards there will be drinks.